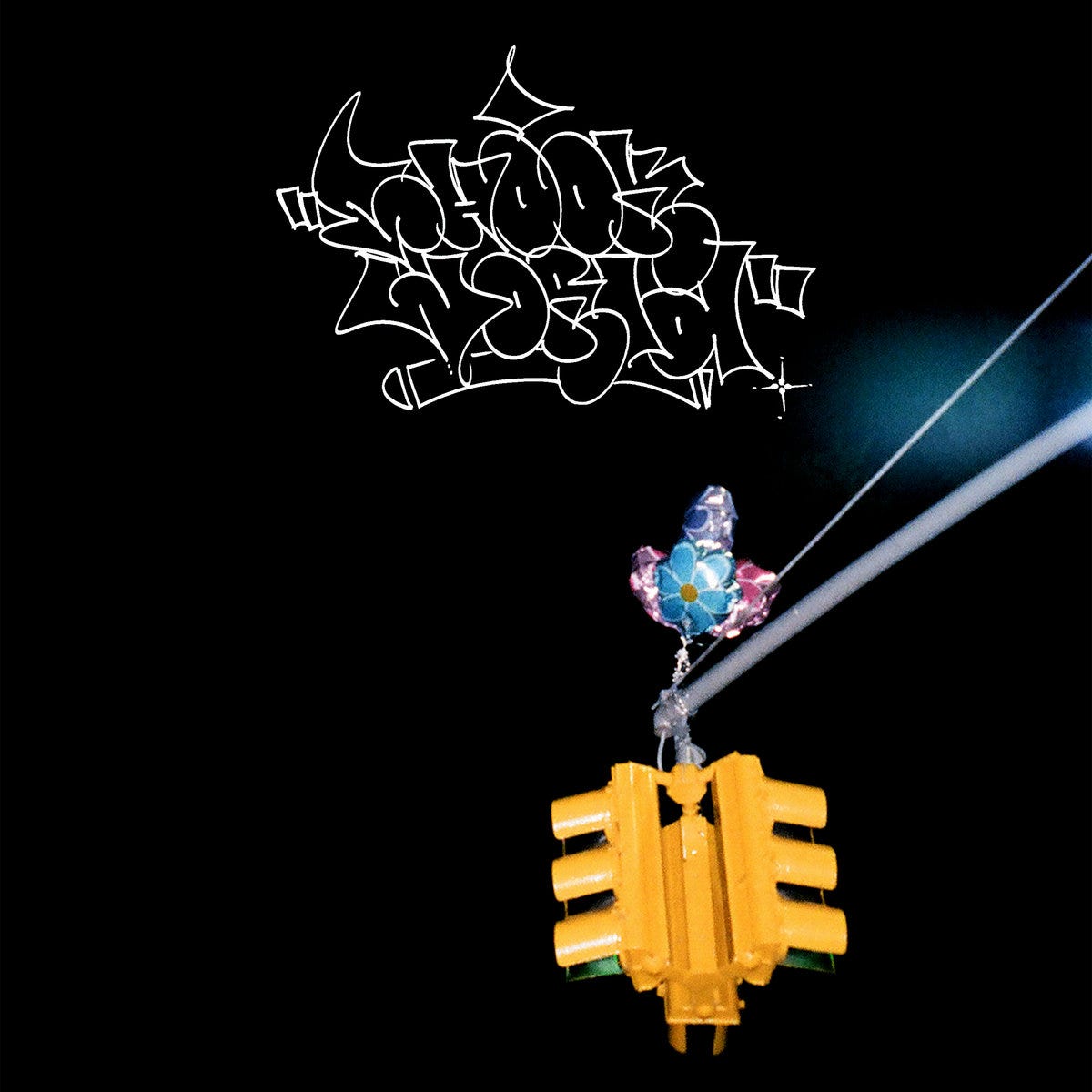 One of the motifs that unifies SHOOK WORLD, a collaborative album produced by GENG PTP aka KING VISION ULTRA, is the use of field-recordings of trains. This is partly a call back to beginning of Nas' Illmatic, cementing a connection with hip hop history. The title SHOOK WORLD also can't help but recall Mobb Deep's classic "Shook Ones, Part II", especially since GENG's KVU moniker is a tribute to Prodigy's King Vulture. But it'd be a disservice to KVU to confine the project within any one genre, even if hip hop plays an important role in what he does. The train remains one of the enduring images associated with New York, both underground and elevated. The recordings, many of which were sent in by GENG's contributors, ground SHOOK WORLD firmly in New York, reinforced by the long list of collaborators enlisted for the project. Another significant motif is the use of vocal samples of tourist streamers going places they don't belong, of transplants complaining about the city they've come to gentrify. And let's be real, they're shook in realizing that everything isn't oriented around them as protagonists, that our city isn't unclaimed territory come to be discovered and colonized. As GENG himself has pointed out in interviews, if you come to New York with respect you'll be met as such, but entitled outsiders treating people's neighborhoods as their playground are gonna get checked.
SHOOK WORLD is all about respectful collaboration, and the project has its origins in reworking material from Shook, the fourth full-length album from Algiers, released on February 24 via Matador. Interestingly, SHOOK WORLD debuted before Shook, a testament to the unusual nature and reciprocity of these two records. [Watch a joint performance at Williamsburg's National Sawdust, 15 Dec 2022] To be honest, I hadn't heard of Algiers prior to the announcement of this album. I don't pay very close attention to mainstream music, particularly rock, at least not in the decades since I became more invested in other genres. But drummer Matt Tong was in Bloc Party, whose debut Silent Alarm hit really hard when I was in college, and that connection piqued my interest. If 2005 nostalgia wasn't enough, though, consider this impressive list of guest collaborators assembled for Shook, some of whom are friends of this site: Big Rube (of Dungeon Family), Zach De La Rocha, billy woods, Backxwash, Mark Cisneros, Samuel T. Hering, Jae Matthews, LaToya Kent, Nadah El Shazly, DeForrest Brown, Jr., Patrick Shiroishi, and Lee Bains. The results are dense and operatic songs that fuse rock, hip hop, and electronic modes, a testament to how certain concepts, styles, and techniques from the underground have come to influence more popular musical styles, and the result is something unique.
This is not a review of Shook, but rather King Vision Ultra's SHOOK WORLD, a self-described "mixtape" that draws on Shook for some its concepts and raw material. SHOOK WORLD completely stands on its own, and I suspect it is more likely to appeal to readers of this site, especially those with an interest in wordplay. Algiers brought together a cohort of incredible collaborators, and King Vision Ultra does the same. Where Shook has woods, Big Rube, and Patrick Shiroishi, SHOOK WORLD features E L U C I D, Bigg Jus, and Matana Roberts. As different as the two end results are, there is a beautiful symmetry to these projects. Back in August 2022, while I was visiting my family in New York, I was lucky enough to finally catch a live set from KING VISION ULTRA (aka GENG PTP), who has featured on the Sound Propositions podcast twice now, profiling his label PTP and again for our MF DOOM tribute. Apparently it was that same night that GENG was first approached by members of Algiers to work on what became SHOOK WORLD. Algiers is based in Atlanta, though I can't say I can hear that in their music. But GENG is very much a New Yorker, and that energy is palpable on Shook World.
As we discussed in BEFORE THE INTERNET, the pandemic has been particularly hard on the city, and the forces of gentrification and displacement have ramped into overdrive, with drug addiction and homelessness on the rise. For a while, NY felt more like itself than it had in a long time, but now that tourism is back to pre-pandemic the levels the crush is on again. The reactionaries are in full-force following the uprisings of 2020, and a cop is even the mayor of the city now. There's an anger that pervades SHOOK WORLD, mirroring Algiers' own meditations on America more broadly.
At the same time, there's a defiant sense of celebration that ties together the entire tape. Many voices are featured, including GENG's own sonic tag that recurs throughout, one of several gestures to the classic mixtape form. Raps, spoken world, sung vocals, and vocal samples bleed into one another, all playing a similar role. Guest contributions come, in order, from LaTasha N. Nevada Diggs, Matana Roberts, E L U C I D, Dreamcrusher, Nakama., Desde, Rena Anakwe, Marcus, Lord Kayso, Harlem Boog, DJ Haram, Dis Fig, maassai, amani, Bigg Jus, No Land, with additional field recordings courtesy of Taja Cheek (L'Rain) and Ara Kim, with Frankie Algiers hosting. What a crew.
I'd be hard pressed to choose a highlight, but hearing Bigg Jus (of underground legends Company Flow) spit over the a flip of the intro of amani + KVU's An Unknown Infinite is definitely up there. There's a sample of Jean Grae that hits hard. Lord Kayso's feature on "Media Training" is perhaps one of the best standalone tracks, and had me going back to his Moor Chores tape from 2022.  And maassai's verse definitely has me anticipating her next full-length. Nakama. and Desde, both of whom were unknown to me, feature twice on SHOOK WORLD, building anticipation to hear more from each other them. E L U C I D's refrain from "Irreversible, Devil" has stayed with me, rattling around my head: "A beginning doesn't need an ending only a portal." The tape is quickly selling out, but copies are also available direct from Algiers on tour. Don't sleep on this one. (Joseph Sannicandro)
Listen to GENG talk SHOOK WORLD and De La on the Next Movement.